Town Buys Airplane for Racer
Could the Local Pilot Win the Big Race?
A stained and wrinkled page of the program tells the story. The "Contest Committee of the National Air Races", Orville Wright, Chairman, sanctions the 1927 races "under rules of the Federation Aeronautique Internationale" in Spokane.
An enthusiastic group of businessmen led by Major John "Jack" Fancher had sought and solicited the Air Races for Spokane, Washington. The races were to be run out of Spokane Air Port (known locally as Felts Field) over several days in late September. An elite group of local executives and business owners formed a management team to finance, coordinate, and execute a comprehensive action plan. As awarded by the National Aeronautic Association in May, 1927, this was the payoff—the big prize. Spokane, Washington had achieved leading status in the opening of the air age.
Doolittle Opens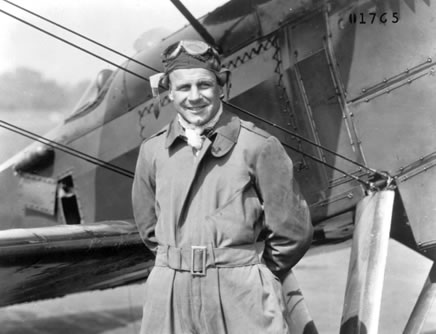 As part of national publicity for the Air Derby and Air Races, Lieutenant James "Jimmy" Doolittle flew low and upside-down over downtown Spokane in his specially-equipped 600-horsepower airplane. This is the Doolittle who later became famous early in WWII leading the daring flight of B-25 airplanes from the deck of an aircraft carrier to the islands of Japan, where they bombed the surprised Japanese.
The loud roar of Doolittle's Curtiss Hawk had the desired effect: it got the citizens' attention. After gaining needed altitude, Doolittle dove at high speed into his invented stunt, the outside loop. In this maneuver, the open cockpit of the Curtiss Hawk remained on the outside of the loop for the entire stunt, drawing citzens' fascination to the events to follow at the airfield east of Spokane.
Of all the many contests, major attention focused on the "Class A" race. This race of 2,275 miles from New York to Spokane was restricted to the most powerful civil aircraft, carrying at least two people. Refueling was planned at six intermediate stops, with crews spending the overnight at a St. Paul, Minnesota hotel.
The Class A planes were to start at one-minute intervals from Roosevelt Field on Long Island, fly to Chicago, through St. Paul and on over the Rocky Mountains, arriving in Spokane the next day. Prizes were to be awarded for the least time airborne, with $10,000 to the winner, $5,000 to second, and $3,000 for third place.  
Mamer Hopes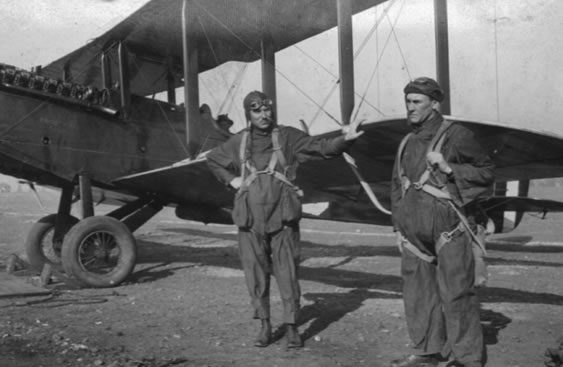 Nick Mamer of Spokane hoped to compete. A skilled pilot, he'd flown during World War I, was discharged as a 2nd Lieutenant pursuit pilot, then stunted and raced as a barnstormer in Minnesota and the Northwest. Recently, he'd spent danger-filled hours spotting forest fires as a pilot for the U.S. Forest Service. But lacking a competitive airplane, he could not qualify for the Class A race.
Bruce McDonald of Spokane, one of many aviation devotees who knew of Mamer's desire, courage, and well-recognized abilities, spoke to like-minded friends. This led to the formation of a cadre of sporting citizens whose goal was supplying a suitable racing airplane for Mamer to enter in the Class A race. A new and competitive open-cockpit Buhl Airster with a J-5 Wright Whirlwind radial engine was favored.
What was needed was a group of citizens sporting enough to cover the $12,000 purchase price. The committee set out subscription rules. If Mamer won the race, he would keep the Airster; backers would accept the prize money in compensation for their risk. If Mamer didn't win, the plane would be sold after the race and backers would accept whatever the sale brought as fair exchange. Within a short time forty-two respondents agreed to join in the purchase of the Buhl aircraft.
The Race
Following a brief delay, planes began taking off at 6:00 a.m on September 20. First off was R.E. Hudson, with J. P. Radike as passenger. The starter waved others off with his red flag at one-minute intervals. Much interest centered on E. E. Ballough, whose Laird carried two passengers, a mechanic and Charles Dickinson, a 69-year-old backer of Ballough. With passenger Bruce McDonald, Nick Mamer's white-bodied Airster with blue wings made it into the Long Island sky without a problem.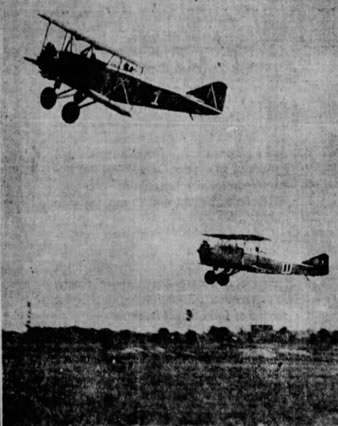 The next stop was Cleveland, where competitors were scheduled to spend a nominal five minutes refueling. Mamer landed handily and received a full tank without even shutting down his motor. At this time it was learned that some fliers had turned back or had failed to leave Roosevelt Field. Sadly, it was found that the lead-off team of Hudson and Radike had been killed upon crashing in New Jersey.
T. J. Royal ran out of gas on his approach to Chicago. He failed to continue the race when his plane was severely damaged during the forced landing.
From the time of takeoff, E. E. Ballough led the field across Chicago and the next day into the Rockies, but on landing at Butte, Montana, a wheel hit an obstacle, causing the Laird to nose over, bending its metal propeller.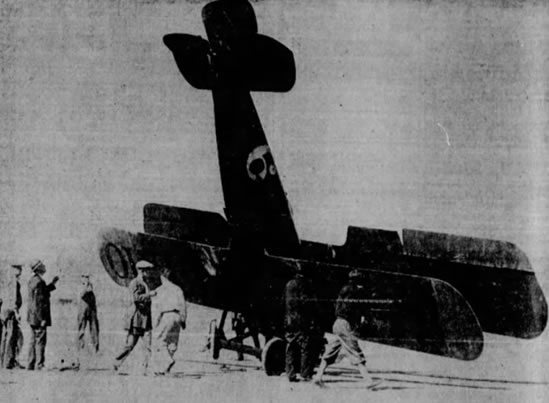 At Butte, C. W. "Speed" Holman's airplane turned south and took to the air again, only seven and a half minutes after landing. As it rose from the field, the left tire flew off its landing gear. Holman and his passenger appeared to realize what had occurred, but their plane continued to climb and disappeared to the west. Race officials at Butte, fearing a crash when Holman attempted to land, wired Spokane officials of the mishap.
Twenty minutes after Ballough's Laird nose-over, while its unhurt crew continued a frantic repair of their entry, Nick Mamer dropped low to a precision landing and halted at the Butte refueling station. Nick stayed in the cockpit gulping a cup of soup and studying maps while McDonald assisted in gassing the airplane. About six minutes later, the Airster was again airborne.
The Finish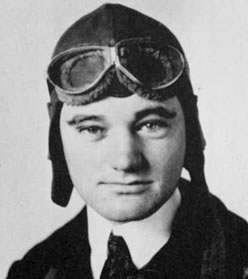 The grandstand at Spokane's Felts Field held 33,421, yet Air Derby attendance over September 19-25 exceeded 90,000. On Sept. 21, the day of the arrival of the Class A racers, a loud roar from the capacity crowd greeted the touchdown of each airplane. Although fifteen planes started the race, only seven reached Spokane.
First to land at Felts was C. W. "Speed" Holman's Laird biplane. Although the tire was missing from its undercarriage, he brought the plane to a safe landing. His airborne time of 19 hours, 42 minutes and 47 seconds won him the first-place prize of $10,000.
Nick Mamer landed next, followed by E. E. Ballough's Laird, which, following repairs at Butte, had demonstrated a speed that won him second place. Mamer and McDonald's time of 20 hours, 59 minutes and 13 seconds secured third place for their Buhl Airster.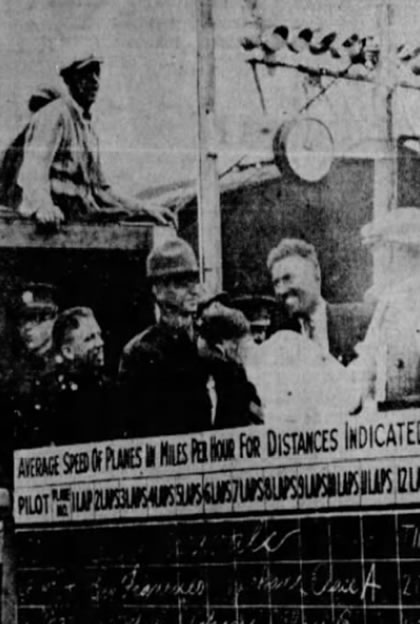 Mamer flung off his goggles, revealing two white disks punctuating a face dark with stubble and smoky with oil. He clambered down from the cockpit and kissed his wife, Faye.
Quickly surrounded by fans, backers, and airport personnel, he and McDonald grinned, accepting the approval and the applause. The two men, dressed in ties, sport coats and jodhpers, were the very image of 20th-century gentlemen-aviators.
McDonald said, "We're awfully tired and thirsty." Then he greeted his pretty wife. Men with cameras strode up and began snapping photos. Someone in the crowd shouted, "Nick, wipe your face." But Mamer, searching, strode off to the judges' stand to exchange greetings with his good friend, Major Jack Fancher  (photo) and learn his placement.
When Mamer returned, he commented on other finishers. Because the design of his Airster's wings made it look like a racing special, he said, "They probably will protest us."
There is no record of such a protest, only a record of unparalleled success for the Washington town. Spokane had proudly contributed so that its local aviator could compete and earn third place in the official National Air Races of 1927.