The King of Speed Lives
In one of the most entertaining 5-minute videos on the internet, Major Brian Shul relates an amusing story of one of his missions piloting an SR-71. (If you're unfamiliar with the SR-71, just know that back in 1990 this aircraft was flown from L.A. to New York City in 67 minutes—yes, just over one hour!)
Near the end of the Vietnam war, having flown a U.S. Air Force jet on over 200 missions, Shul was shot down, thought to be near death, yet recovered. His story of the SR-71 training mission over the U.S. mainland had particular relevance for me because it involved an unnamed Navy pilot, reminding me of my U.S. Navy days when I helped train cadets in navigation.
As Shul's story begins, he's at the controls of the two-cockpit version of the Blackbird, with "Walter" in the Recon officer's cockpit behind—this being what the flyers call the Blackbird's "family model"—on the mission at 89,000 feet over the U.S. Southwest.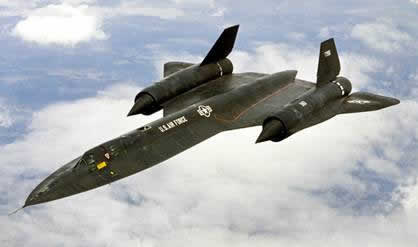 Walter is monitoring five radios from this altitude over Tucson, where they can clearly see downtown L.A. They're in airspace that L.A. Center controls, although at this altitude they're above controlled airspace. (L.A. Center is short for Los Angeles Air Route Traffic Control Center in Palmdale, which controls 177,000 square miles of airspace in California, Utah, Nevada, and Arizona.)
While listening to chatter on L.A. Center's radio frequency, Shul says, "It's really cool the way they—the controllers—talk, makes you feel important, as a pilot." He shortly notes that some guy flying a Cessna quizzes L.A. Center for his ground speed. Although Shul knows that the ground controller would like to say, "Who cares? Get off the freq," the controller replies, in a calm, cool voice, "Cessna, we show you at nine zero knots, on the ground."
L.A. Center also has a twin Beech on their scope. Its pilot, perhaps to show up the lazy speed of the Cessna, requests a speed check. Again calmly, as though giving Air Force One a courtesy check, L.A. Center says, "Twin Beech, we show you at one-twenty. One two zero knots on the ground."
Immediately, a Navy F-18, high over the Rockies in a move to show everybody that he's "the meanest, badest, fastest military jet in the Valley today," requests a speed check. This despite, as Shul notes, the million-dollar Navy F-18 has a "heads up" display of ground speed "right there in the cockpit."
Again, however, L.A. Center cooly replies, "Dusty five two, we show you at six-twenty. Six two zero knots across the ground."
To Shul's surprise, he then hears a click from the SR-71's rear cockpit where Walter is in charge. "Oh, no," Shul says, "it's the Navy, and the Navy must die now."
Sure enough, Walter's voice crackles over the radio, "L.A. Center, Aspen three zero. Do you have a ground-speed readout for us?"
In the legendary calm voice of L.A. Center's controllers came the reply, "Aspen three zero, we show you at one-thousand-nine-hundred-ninety-two knots across the ground."
Shul says he quickly realized a crew had been formed with Walter as the cool-voiced reply issued  from the SR-71's rear cockpit: "L.A. Center, we show a little closer to two-thousand."
The Navy had thus been flamed and the 'King of Speed' was henceforth affirmed.