The Great Film Race
Two minutes before noon, Saturday, September 1, 1923, houses splinter, brick walls tumble. Roofs beams split and tiles collapse, hurling clouds of dust across carts, streetcars, roads, and the river.
The cries of those trapped but not crushed fill the murk. As the dust settles, a few surviving structures poke defiantly through the vast white coverlet.
Smoke issues from the wreckage and explodes into orange flames. Fire, sustained by dry, splintered timbers, shoots outward on jets of gas from broken pipes. Hundreds gathered at the river to escape are immolated by a scorching wind—a front of flames driven at high speed by its own distending heat.
Since its opening in the late nineteenth century, the bayfront City of Silk has flourished on international trade. Now ships rest capsized in its harbor, locomotives lie overturned near twisted rails, and bodies float in its rivers and canals.
A great hotel on the seafront is down, having crushed guests and staff alike. Yokohama's homes and shops are ablaze, its citizens and merchants incinerated. A severe earthquake has struck the island of Honshu, devastating both Yokohama and nearby Tokyo. A tsunami and firestorms follow, creating an annihilating catastrophe that is estimated to cause more than 140,000 deaths.
Listeners across the globe quickly learn of the Honshu catastrophe from scratchy voices on early crystal sets or via crude 1920s' radio receivers. Soon, headlines trumpet the disaster in newspapers as distant as America. Pictures, however—photos and newsreels illustrating the vastness of the destruction—must await transport across the thousands of miles of Pacific Ocean.
Initial moving-picture films of the devastation are secured by Famous Players-Lasky Corporation for showing in Broadway theaters in New York City. The unprocessed film is placed aboard the 23,000-ton Empress of Australia, a Canadian Pacific Steamship passenger liner sailing from Kobe. Destination: Vancouver, B.C. and Seattle, Washington.
In the United States, H. W. Braly, district manager for Famous Players-Lasky Corporation, is charged with transporting the film from Seattle to New York. Paramount Pictures, the distributor for Famous Players-Lasky, plans to feature the film in its moving picture theaters on Broadway.
Braly's job becomes more daunting when he learns that a rival company's moving pictures of the Japanese disaster have arrived by ship in San Francisco. They also are destined for New York for distribution and showing. Realizing that the wish of Adolph Zukor, head of Famous Players-Lasky, is to outmaneuver any competition, Braly hires pilots to fly them to New York. According to Braly, the company "which first reaches New York will have scored one of the greatest 'scoops' ever registered in moving pictures."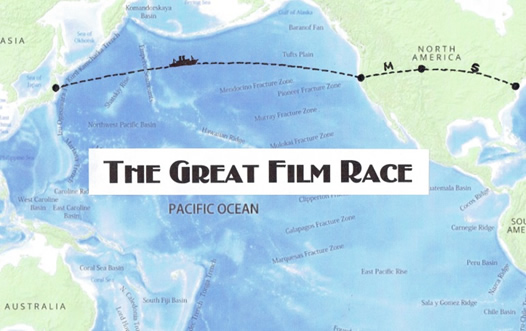 Thus begins what may be called "The Great Film Race."
With the Empress within its range, the Famous Players disaster film is transferred to a seaplane out of Seattle. The seaplane docks in Seattle Sunday evening, September 23, saving 15 hours over the normal docking of the steamer at Seattle.
Following processing and clearance by customs, the film is consigned to the Standard J-1 aircraft of pilot Nick Mamer. Mamer is chosen to deliver the film because of his widely-known skill of flying in the mountainous and weather conditions of the Northwest. Mamer's open-cockpit biplane takes off from Seattle at 5:00 a.m. Monday, headed for Great Falls, Montana.
Meanwhile, noted endurance pilot Eddie Stinson had flown his Junkers-Larson airplane into Great Falls on Saturday accompanied by A.C. Gray. They'd flown 11.5 hours out of Minneapolis. Stinson hoped to shorten the time to New York, with the intent of establishing a delivery record for Stinson's air fleet that would attract the attention of the entire country.  (The film, however, remains on board the Empress.) Now all Stinson can do is top off his fuel, check everything, and await the arrival of Mamer.
Braly too is on the move. He's traveled to Great Falls from Salt Lake City to insure the safe transfer and flight of the 2000 feet of film to its New York premier. Ensconced in a Great Falls hotel, he anxiously awaits a call alerting him to Mamer's arrival. On a nearby table, he's secured a bundle of sandwiches purchased to help ease Stinson's long flight east to Chicago and New York.
While Braly, Stinson and Gray wait, Mamer lands in Spokane for refueling. On the ground he says little about his mission, although the strain is evident. The worry, of course, is that any delay in his  arrival at Great Falls favors Famous Players' adversary. Once his fuel gauges read "full," Mamer takes off, noting possible headwinds aloft over his eastbound track. Urging his 180-horsepower Hispano motor to an altitude of nearly 10,000 feet to clear the mountains of Idaho and Montana, he attempts 90 miles per hour. Adverse winds aloft will reduce his speed over the ground, adding to the delay.
Hours later, Mamer sights the field at Great Falls. Noting the windsock, he guides the Standard to a perfect landing at 3:40 p.m. and taxies to the Junkers-Larsen. Stinson and Gray quickly gain the Junkers-Larsen and accept the can of film from Mamer.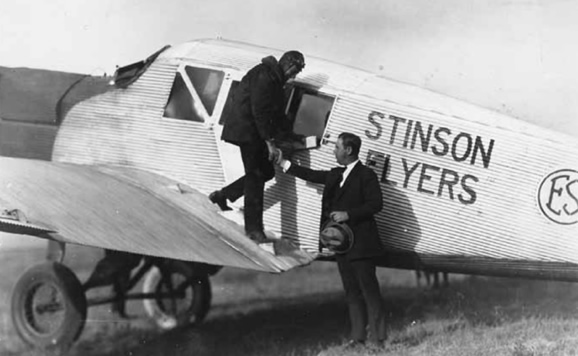 In a nearby hangar, a call is made to Braly's hotel. Braly dashes to the airfield with the sandwiches. But Stinson, knowing the value of each minute, has already taxied to the takeoff position. As Braly stares skyward, the Junkers-Larsen takes to the air and sweeps eastward over the city.
At about 11:00 a.m. the next morning, Stinson lands at Fort Lincoln, near Bismarck, North Dakota, to refuel. He'd been forced down near Marshall, Montana by rain and fog. After taking on 120 gallons of gas, he takes off again, expecting to fly nonstop to Chicago. But the flight is not to be nonstop. Instead, he lands at Ft. Snelling, Minnesota and is not airborne again until 4:00 p.m.
Stinson and Gray finally land at Ashburn field near Chicago around midnight. After gassing up, they take off a half-hour later.
Finally, at 3:15 p.m. on September 26, the moving picture film of the Japanese earthquake disaster arrives at Curtiss Field outside of Mineola, New York, from which it is whisked to Paramount Pictures' New York movie houses. The flickering scenes of panoramic devastation, including surviving refugees on foot fleeing with children or toting wooden wheeled carts with salvaged possessions, are truly appalling. But no announcement is forthcoming about a winner (or a loser) of "The Great Film Race."
The next day, however, the Poughkeepsie Eagle-News advertises "THE GREATEST DISASTER IN THE HISTORY OF THE WORLD"— First Motion Pictures of the Earthquake in Japan, secured by Paramount Pictures
By Vessel to Vancouver
By Seaplane to Seattle
By Airplane to New York
By Fast Train to Po'keepsie
And on the Screen at the Bardavon Today ! Complete Pictorial Record of the Great Holocust !" (actual spelling)
So ends another of the adventures of pioneer aviator, Nick Mamer.