The Last Wail
When I was twelve, my family moved to Mishawaka, Indiana, 90 miles around the southern lip of Lake Michigan from Chicago. At that time, Mishawaka was a small town on the main line of the New York Central (NYC) railroad.
About a year later, we moved to a house closer to Merrifield Avenue. This second move was to a house only a block from the previous address. (I remember sauntering that block on the day of the move, transporting household items from one house to the other.)
The new address was about three blocks from the NYC tracks.
Every morning back then, a railroad worker left Mishawaka's downtown depot with a pouch of mail. He trudged to a pole adjacent to the tracks where he mounted the pouch on arms protruding from the pole, ready for pickup.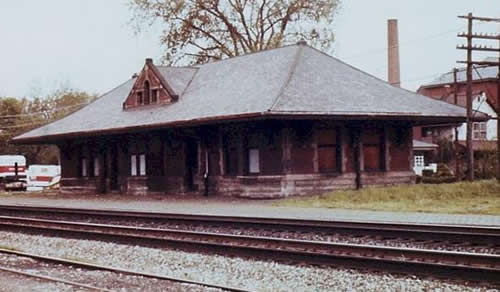 And every morning back then, around 6:30 a.m., train No. 25 roared past Merrifield Avenue, trailing smoke, jetting steam and emitting a high-pitched wail. Thirty-seconds later, the pouch was snatched by the 'catcher arm' deployed from train No. 25's mail car. This 'fast mail' would arrive with No. 25's passengers at the LaSalle Street Station in Chicago at 8:00 a.m. the same morning.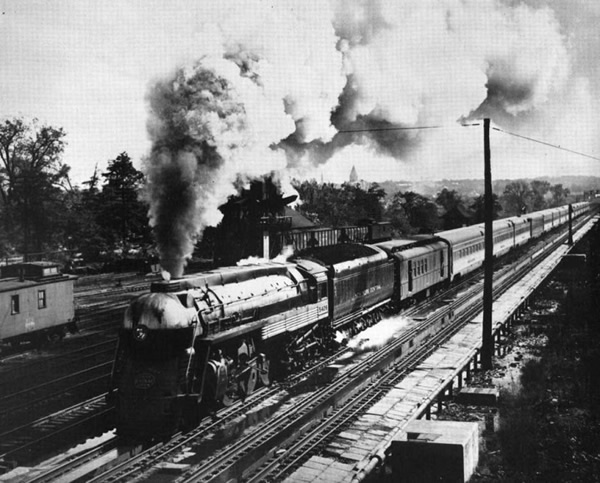 Train No. 25 left New York City on track 34 of the Grand Central Terminal at 5:00 p.m. the previous night. Each passenger had boarded on what became a trademark red carpet. To eliminate stops, its 90 miles-per-hour-capable locomotive scooped fresh water for its steam boilers from long troughs installed between the NYC's rails.
With a dozen or more Pullman sleepers, two dining cars, and a lounge and observation car, No. 25 delivered its hundreds of passengers in luxurious comfort to their next-day appointments with appreciated speed. Much of the train's luxury was symbolized by the Art Deco styling of its rolling stock by designer Henry Dreyfuss (1902-1972).
The NYC roadbed, billed as the "water level route" (see map), avoided the Allegheny mountains which slowed its rival, Pennsylvania Railroad's Broadway Limited.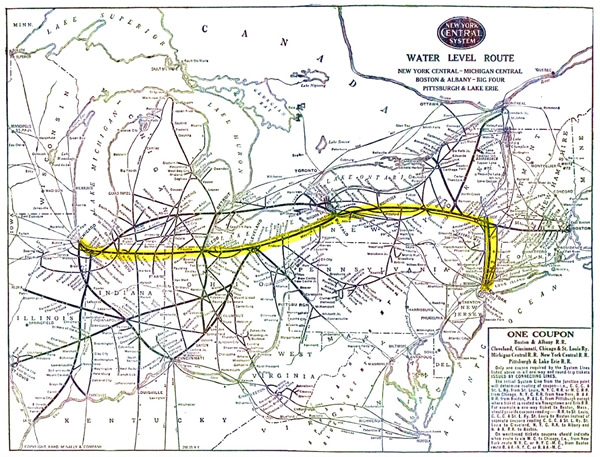 For more than sixty years, these trains scorched the rails between 4th and 5th street at Merrifield Avenue. The trains, including eastbound No. 26, known throughout the world as the 20th Century Limited, became famous partly because of their appearance in movies.
A video documentary on the 20th Century Limited appeared in 2016, but its most famous on-screen time was in Alfred Hitchcock's film North by Northwest. In this 1959 spy drama, Roger Thornhill (Cary Grant) escapes detection courtesy of a sexy Eve Kendall (Eva Marie Saint) in the luxury surrounds of the Chicago-bound train. This No. 25, powered by diesel-electric locomotive number 4044, contrasts with the steam-powered 20th Century Limited in 1934's Twentieth Century, a screwball comedy starring John Barrymore.
Despite its thunderous daily trips through town during those many years, this famous train never stopped in Mishawaka. Yet to the kids of our town the speed, hissing vapors, and wailing whistle of its locomotives were as familiar as our bicycles.
The NYC's Limited served the country admirably during World War II. Later, the line's steam locomotives were replaced by diesel-electric locomotives and a discordant horn displaced the steam whistle's wail. Competition from airlines and the improved efficiency of highway travel ultimately caused No. 25 to leave track 34 at Grand Central Station for a final time in December of 1967.
No longer does the screeching wail and thunderous roar between 4th and 5th street bring a knowing grin to kids' lips like it did for all those many years—long ago in Mishawaka.